Kelsey Colker is less than a year old but she's already spent more time in hospital than most of us will in our lifetime.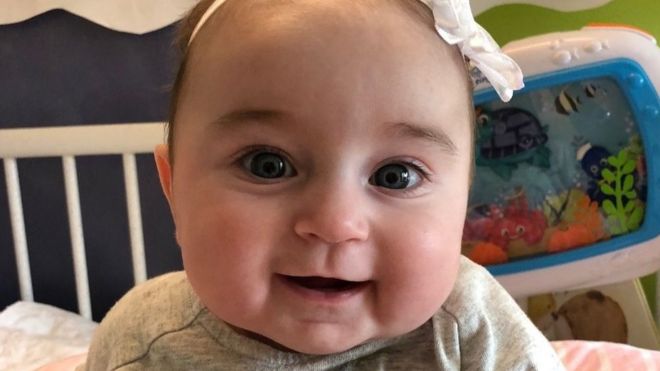 She has from a rare condition known as "vanishing gut syndrome", causing her to lose most of her intestines.
Treatment is painful, long and – of course – expensive.
"I was not prepared for this situation and the astronomical medical bills I've faced," Kelsey's mother, Patricia, told me.
Like millions before her, Patricia has turned to GoFundMe, a site that provides a crowd-funding platform and tools to help worthy causes receive attention across social media.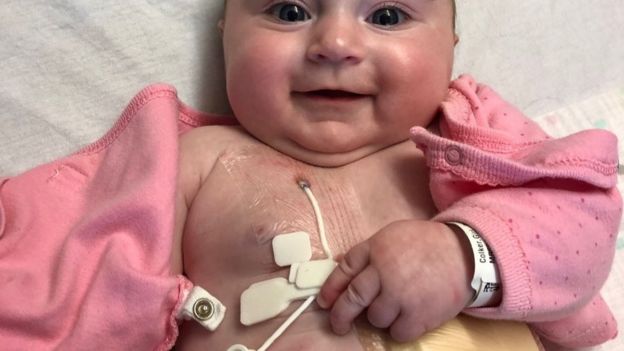 "The heartfelt donations Kelsey receives through her GoFundMe page are a godsend in helping to pay medical bills, and giving her a fighting chance," Patricia said.
The last hope
In today's world, for a sick child, going viral can mean the difference between life or death. Or, it means an injured firefighter, has the chance of a full recovery. It means hundreds of lawyers for women who were victims of sexual harassment, or food for federal workers staring down financial ruin after weeks of not being paid.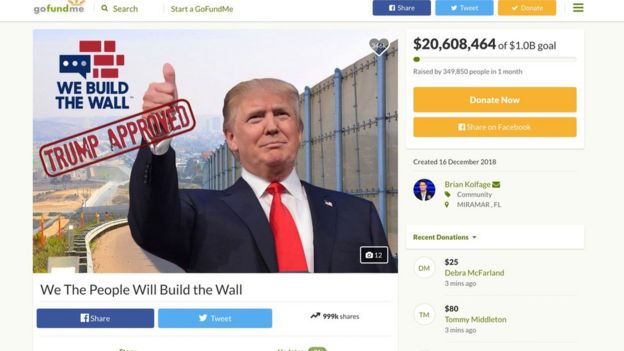 Indeed, California-based GoFundMe has become the last hope for many Americans, in a country where social safety nets can be tragically hard to come by. The site has a growing number of international users too.
Since 2010, more than 50 million people have donated more than $5bn (£3.9bn). At first, the site took a 5% cut of donations but now it takes no fees in most markets, asking instead for givers to essentially tip the website instead.
For some, the success of GoFundMe stands as proof of humanity's innate desire to help each other. For others, the site's continued existence is a monument to inequality.
"The risk is that we are lulled into thinking that generosity is a substitute for justice," said Anand Giridharadas, author of Winner Takes All, a book that examines the forces behind income inequality.
A broken system
"It's biblical in nature," Rob Solomon, GoFundMe's chief executive, told me.
"I mean, in the old days, when someone needed to build a barn, it wasn't the family that was building the barn that built it, the whole community came together. This is something that is deeply seated in human nature, this notion of coming together to help people."
Our interview took place, not in a barn, but in a conference room named Saving Eliza, after a little girl whose father raised enough money to fund a clinical trial to help fight Sanfilippo syndrome, a rare genetic disorder.
Other rooms in the building include Help Norma, named after an 89-year-old who was able to afford stay-at-home care after her 31-year-old neighbour raised over $50,000.
Medical needs are the most frequent type of fundraisers on the platform, not just covering medical bills, but other areas where money can fall short when a family member is taken ill.
Many of the fundraisers existed because of a "broken" healthcare system in the US, Mr Solomon said.
"I wish GoFundMe didn't need to be around to solve problems that shouldn't exist.
"Everyone should have access to health care. I would love for there never to be another medical campaign on GoFundMe. But that's not the reality we live in."