The UK economy expanded at its slowest annual rate in six years in 2018 after a sharp contraction in December.
Growth in the year was 1.4%, down from 1.8% in 2017 and the slowest rate since 2012, the Office for National Statistics (ONS) said.
The ONS blamed falls in factory output and car production for the slowdown, among other factors.
It follows forecasts of slower growth in 2019 due to Brexit uncertainty and a weaker global economy.
According to the ONS, quarterly growth also slowed, falling to 0.2% in the three months to December – down from 0.6% in the three months to September.
However, Chancellor Philip Hammond said the data showed the economy remained "fundamentally strong" and that he did not foresee a recession.
The pound fell by a third of a cent to below $1.29 following the news.
Head of GDP at the ONS Rob Kent-Smith said: "GDP slowed in the last three months of the year with the manufacturing of cars and steel products seeing steep falls and construction also declining.
"However, services continued to grow with the health sector, management consultants and IT all doing well."
Tej Parikh, senior economist at the Institute of Directors, said the continuing uncertainty around Brexit was the "prime suspect" behind weaker economic activity.
"There is currently a drag on growth as some businesses are forced to hold back on major investments and engage in cautionary stockpiling."
Ben Brettell, senior economist at Hargreaves Lansdown, said: "There's little doubt Brexit uncertainty is responsible for the disappointing numbers, though concerns over global trade will also have played a part."
Is a recession ahead?
Last week, the Bank of England forecast growth this year will be 1.2% – the slowest since 2009 when the economy was in recession.
It blamed Brexit concerns as well as slower-than-expected growth in the eurozone and China.
It even sees a one-in-four chance of the economy slipping into recession in the second half of this year.
But Samuel Tombs, chief UK economist at Pantheon Macroeconomics, said an impending downturn was unlikely.
"On the face of it, the sharp fall in GDP in December looks alarming, but it isn't unprecedented… and it was driven by sectors which have historically been volatile."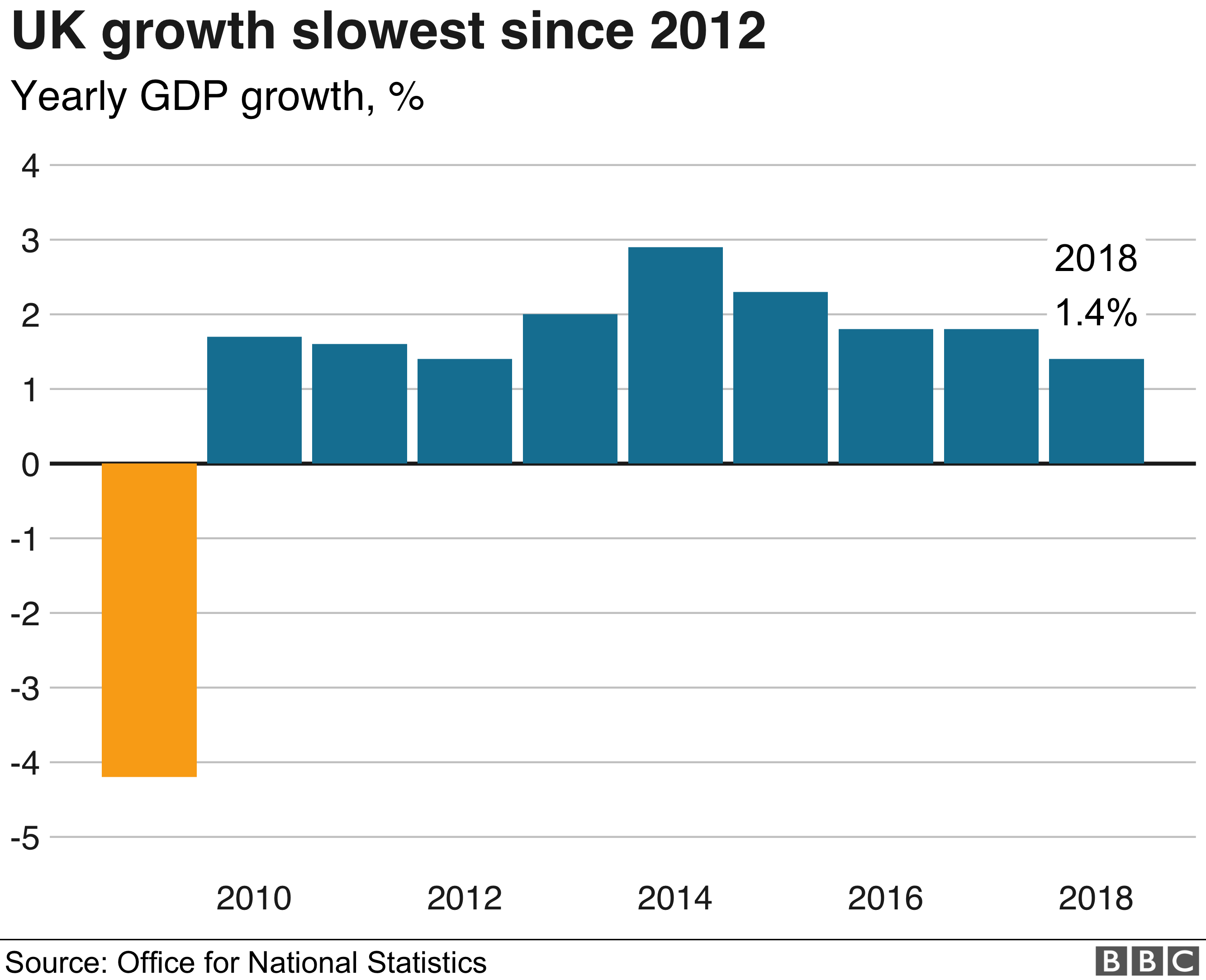 Paul Dales, chief UK economist at Capital Economics, said: "There's little hope of a rebound early this year. But if there's a silver lining, it's that a lot of the activity put on hold ahead of Brexit could be released once – or if – a deal is done."
What's going on with UK trade?
Separately, the ONS published figures showing the UK's trade deficit, including goods and services, widened slightly in the last three months of the year by £900m to £10.4bn.
It blamed a rise in goods imports including cars and chemicals.
Suren Thiru, head of economics at the British Chambers of Commerce (BCC), said it was further evidence that "slowing global growth and continued uncertainty over Brexit are making trading conditions for UK exporters more challenging".