They may be our "best friends" but dogs have also emerged as a major threat to wildlife.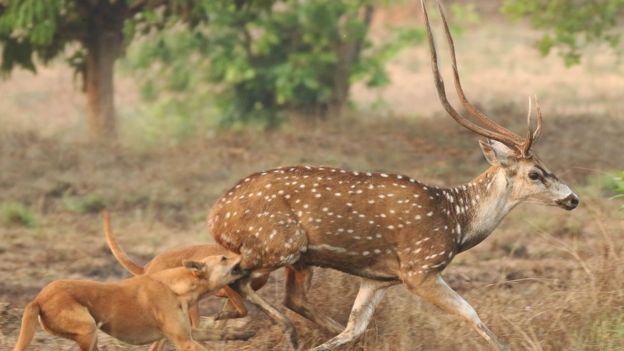 Scientists say they have contributed to the extinction of nearly one dozen wild bird and animal species.
As such, they have become the third worst human-introduced predators after cats and rats.
Now dogs are said to threaten nearly 200 species worldwide, some of which are critically endangered, studies suggest.
And yet, feral and free-ranging dogs have received surprisingly little attention, conservationists say.
In a recent study carried out on dogs in Chile, the authors said: "Conservationists in Chile and elsewhere see urgency in controlling the impact of free-ranging dogs on wildlife."
It found dog owners were not concerned about the issue and many allowed their pets to move freely in the wild.
"Predation and harassment by dogs has been documented for the majority of larger terrestrial mammals that inhabit Chile, including the three species of canids (mammals from the dog family) and three species of deer," Eduardo Silva-Rodriguez, one of the authors of the study, told the BBC.
There are an estimated one billion domestic dogs worldwide and their conditions range from feral and free-ranging to entirely dependent on humans.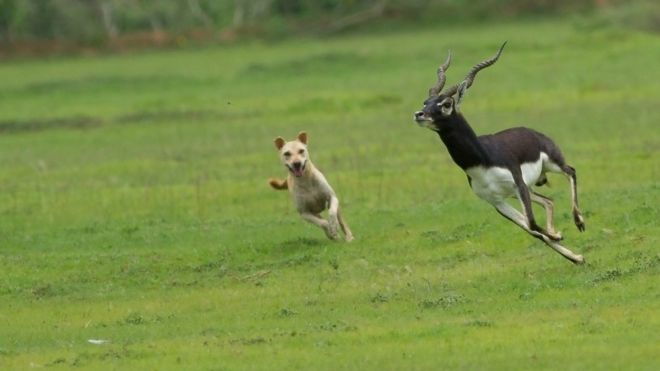 There is no definitive figure for feral and free-ranging dogs, but conservationists say their number is definitely rising.
"It's quite a matter of serious concern," Piero Genovesi, head of the invasive species specialist unit at the IUCN conservation body, told the BBC.
"As the human population rises, so will the number of dogs, and this problem could get worse."
Killing of feral and free-ranging dogs as a solution has been quite controversial and has been banned in several countries.
"Killing campaigns to reduce or eliminate dog populations is not only inhumane but ineffective, creating a population vacuum that is quickly filled by an influx of new dogs from other areas," says Kelly O'Meara, Humane Society International's Vice President of Companion Animals.
"The key to addressing conflicts in an effective and sustainable way is to gradually reduce the dog population through humane dog management programmes, involving the spaying and neutering of dogs to curb the overall numbers, and then mass vaccination to ensure the population is healthy and disease free."
Conservationists say that although several studies have demonstrated the problem exists, there has been no comprehensive proposal looking at solutions.
Unless that happens – and with populations of humans and dogs on the rise – wildlife will likely continue to be threatened.